RESERVE LOCATION
The Jim Mart Nature Reserve is located near the hamlet of Press, 4 kilometres north of Ogston Reservoir and 2½ kilometres north-west of Clay Cross. It is open only to Ogston Bird Club members who can gain access using the usual Ogston lock code.
The reserve is not easy to find and is neither signed on any of the approaches, nor at the entrance.  The easiest way is for drivers to enter the post code for Press Lane Farm into their SATNAV (S42 6AL) and then locate the reserve from the map below.  After passing the farm on your right, continue for a few hundred metres to find the reserve entrance on the right (east) with a large wooden five-bar gate set back from the road, with a 'bird box' on the right-hand gate post which houses the padlock.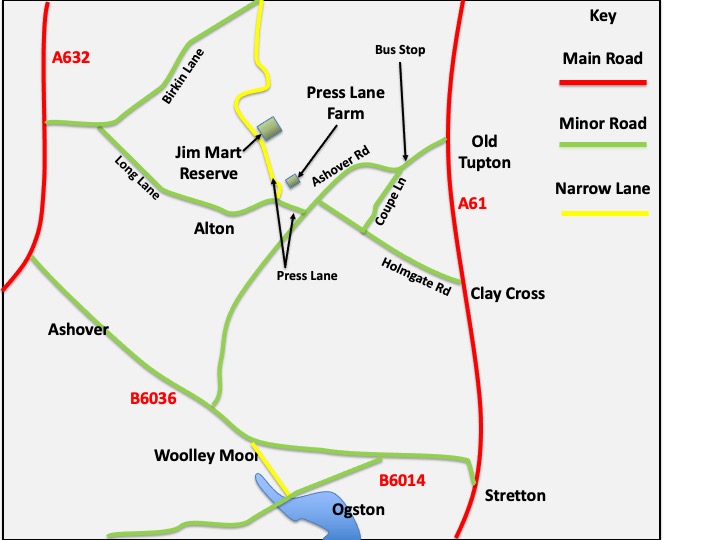 For those without a SATNAV, the Ordnance Survey grid reference is SK368648.
It is possible for two cars to park on the grass covered hardcore area inside the main gate and there is room for two cars to park side by side in the entrance area in front of the main gate.  Please do not block the entrance to adjacent fields or obstruct traffic on Press Lane.
For access using public transport the nearest bus stop is at the junction of Ashover Road and Coupe Lane in Old Tupton (map). This is served frequently by Stagecoach service 51 (Chesterfield – Clay Cross – Danesmoor – timetable). From the bus stop it is a 2 kilometre walk to the reserve: proceed in a westerly, then south westerly, direction along Ashover Road, turn right into Press Lane (signed to Alton), then turn right again at the next road junction, again into Press Lane (signed to Press).  The reserve is then about 400 metres along the lane at a wooden five-bar gate on the right (east) of the road, with a 'bird box' containing the padlock on the right-hand gate post.