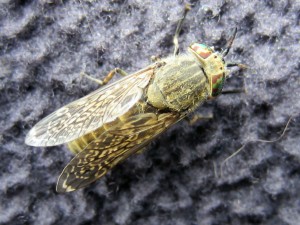 Birds: Chiffchaff, Juvenile Moorhen.
Butterflies: Comma, Large Skipper, Meadow Brown, Ringlet, Small Skipper, Small Tortoiseshell, Small White, Speckled Wood.
Moth: Narrow-bordered 5-spot Burnet.
Damselflies: Azure, Large Red.
Dragonflies: Brown Hawker.
Mammals: Water Vole droppings on monitoring raft.
Other invertebrates: Black and Yellow Longhorn Beetle Rutpela maculata, a Cleg-fly (click on the photo to admire the colourful eyes and mottled wings) Haematopota sp., Common Red Soldier Beetle Rhagonycha fulva, a gall mite Eriophyes crataegi causing pale patches on Hawthorn leaves, a gall mite Phyllocoptes goniothorax causing tight rolls on the edges of Hawthorn leaves.