A gaggle of 14 (actually 12 with two laggards catching up with us later) assembled at the usual parking spot at the top of Padley Gorge. After a healthy debate about the weather forecast (everyone seemed to have a different one) we set off dressed in a variety of outfits involving shorts, wellingtons, woolly hats and thick winter coats.
A tour of Lawrence Field produced very little until we reached the southern end above the gorge. First we ticked the usual suspects – Meadow Pipit, Swallow, Carrion Crow, Goldfinch, Robin, Red Grouse, Wren and Pheasant. A distant Cuckoo couldn't be picked out though. Then it got interesting,  first a Redstart and then a single Tree Pipit.

As we gathered before leaving the field into the Gorge, a male Pied Flycatcher obliged giving good views to everyone. As we proceeded to zigzag through the gorge, we saw plenty more Pied Fly's,  a couple of Goldcrests, Treecreepers and Nuthatches. Further singing Redstarts were heard .on the way out if the gorge. As we returned to the car, a Common Buzzard came into view and various Tits showed in the bushes.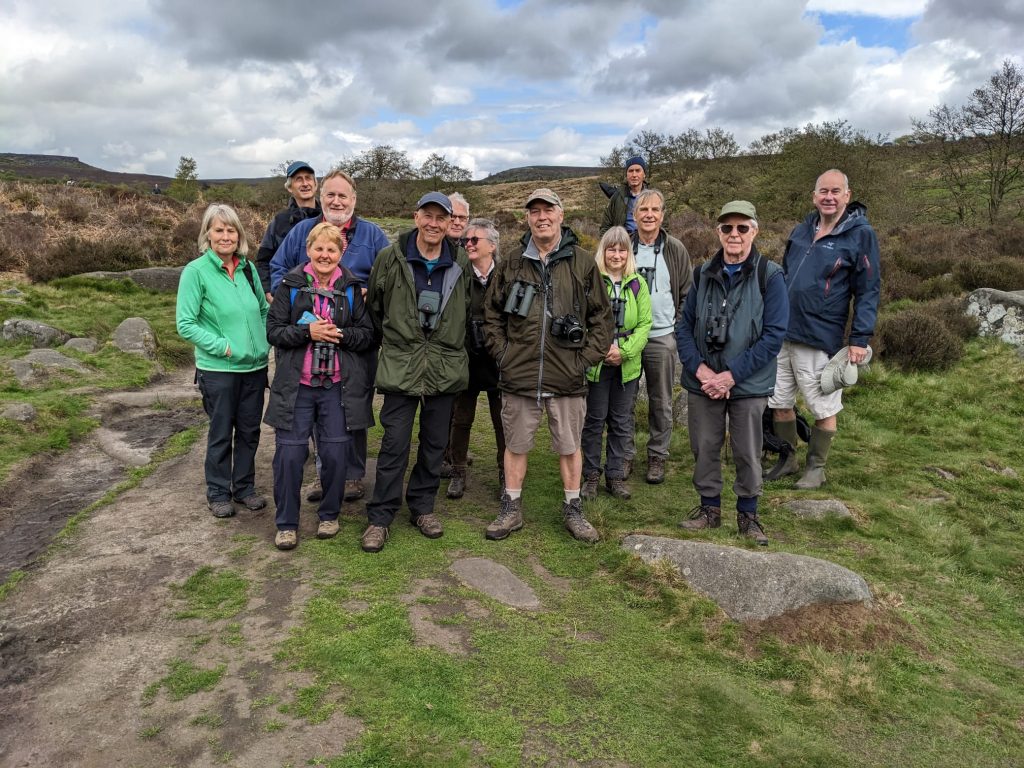 Off to Barbrook. A new place for me and I found it most pleasant.  Upon joining the path, we dropped immediately down to our left where eventually we picked up many lively Willow Warblers and a single Spotted Flycatcher was reported. Upon rejoining the path, we saw a very obliging male Stonechat and eventually it's mate. We followed the winding path for another mile to a site where Whinchats had been reported. Along the way a Cuckoo decided to fly back and forth down below us just above the brook. Searching for a Whinchat gave us all a chance to rest and the Cuckoo gave us a party piece to entertain us. Very visible and very vocal. After 30 minutes and with the call of the Grindleford Railway Station cafe ringing in my ears, we picked up a beautiful Whinchat. Looking down certainly does provide a good view and eventually two showed really well. A job well done, some took lunch at the spot whilst others departed. Those departees (?) were treated to a basking adder on the path back to the cars.
As for the choice of clothing? David Griffin won with the shorts.
31 species all told.
A grand day out.
Steve Slack