The annual Padley Gorge trip was scheduled for Wednesday 11th May but was postponed for a day due to inclement weather. Nine intrepid devotees arrived on Thursday morning which was dry and overcast but with a chill wind. Thanks to Steve Slack for leading this trip when Martin was not available.
Padley Gorge is a south-facing sessile oak wood which attracts species typical of that habitat, and contains the nest box scheme established by National Trust and local birders many years ago.
We set off across Lawrence Field, the edge of the heather moor with birch trees, and although the wind seemed to be keeping the birds quiet, soon heard a Cuckoo and found Pied Wagtail, Buzzard, Kestrel and Meadow Pipits. The Tree Pipits which frequent the birch were elusive today.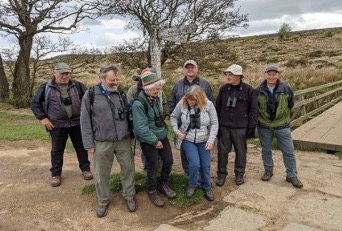 Descending into the wood we found our Pied Flycatchers with good views of male and female, and Redstart, though only briefly. Green Woodpeckers are heard but less often seen, and this was the case today. The walk in Padley is always good exercise! On the route from the ice cream van down the west bank to the ammunition store and back up through the wood we found the regular Tree Creepers and Great Spotted Woodpecker
Wood Warblers seem to have become less abundant in recent years and we tried hard to hear or see them today but without success. That's birding! Others on subsequent excursions to the wood were able to confirm that there was at least one singing male, and perhaps two.
We were able to observe a pair of Grey Wagtail which breed each year in the tumbling Burbage Brook which is so typical of this species.
30 species for the trip. Not a record for this site, but OK! All in all, an enjoyable outing and several members adjourned to the Grindleford station café for refreshments before departing. Everyone in good spirits, and another excellent day.
Bill Padley